Rhino Announces 2023 Exclusive 2023 Record Store Day Releases
including 5 LP expanded "Nuggets" box set
Among the Rhino RSD releases is a 5 LP expanded "Nuggets" box set, originally curated by Lenny Kaye as a double LP set. I produced and recorded the original radio spot for Elektra Records way back then, that I sent to Lenny when the '90's expanded "Nuggets" CD set was released. I also included some of my parodies and the famous "Troggs tape", which has, since the internet, become readily available.
Lenny responded to my tape: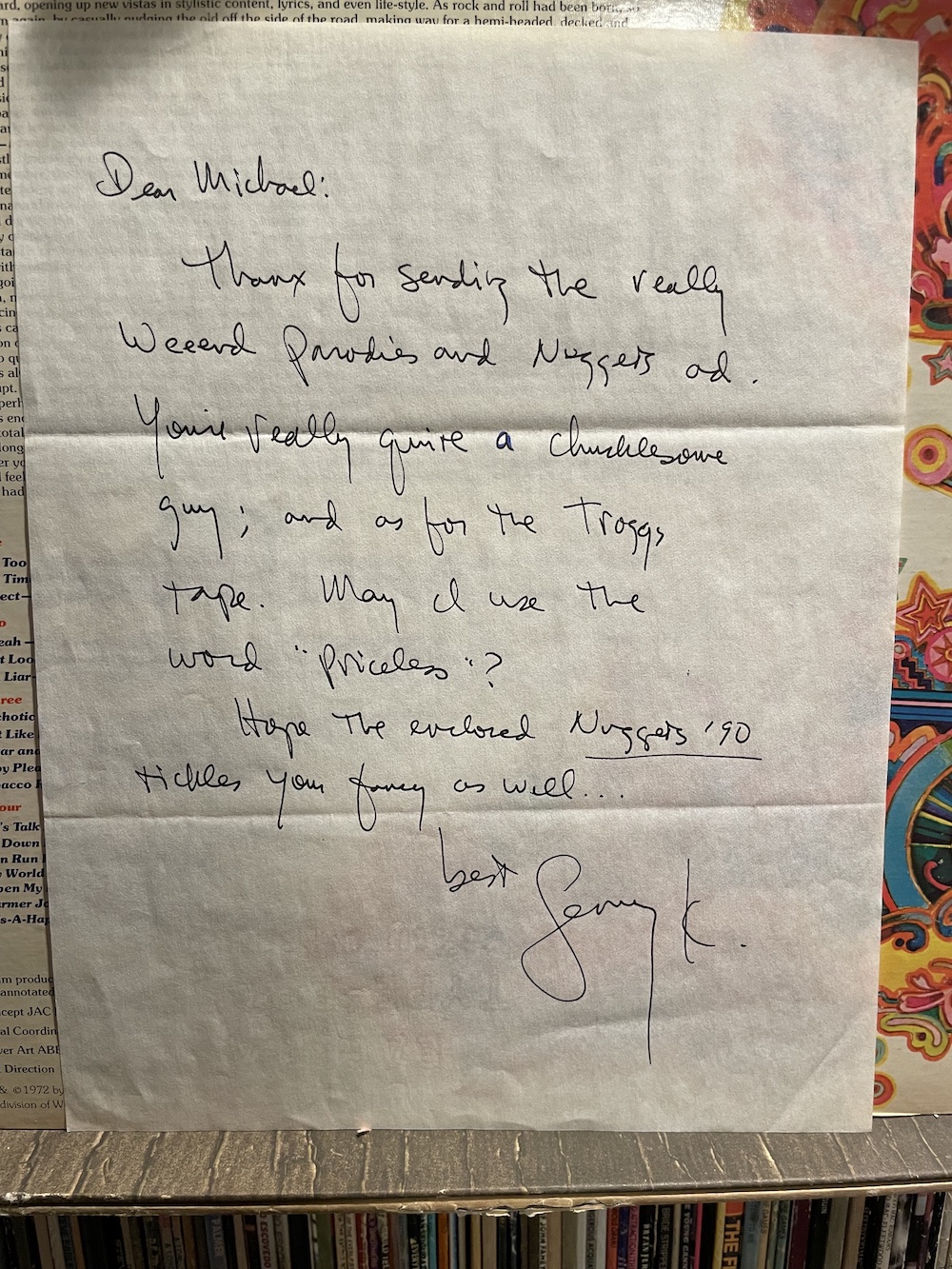 Part of the RSD festivities in Los Angeles will be a Three-Day Nuggets Celebration In Los Angeles Features
Live Music, Q&A With Lenny Kaye, Rhino x Amoeba Party.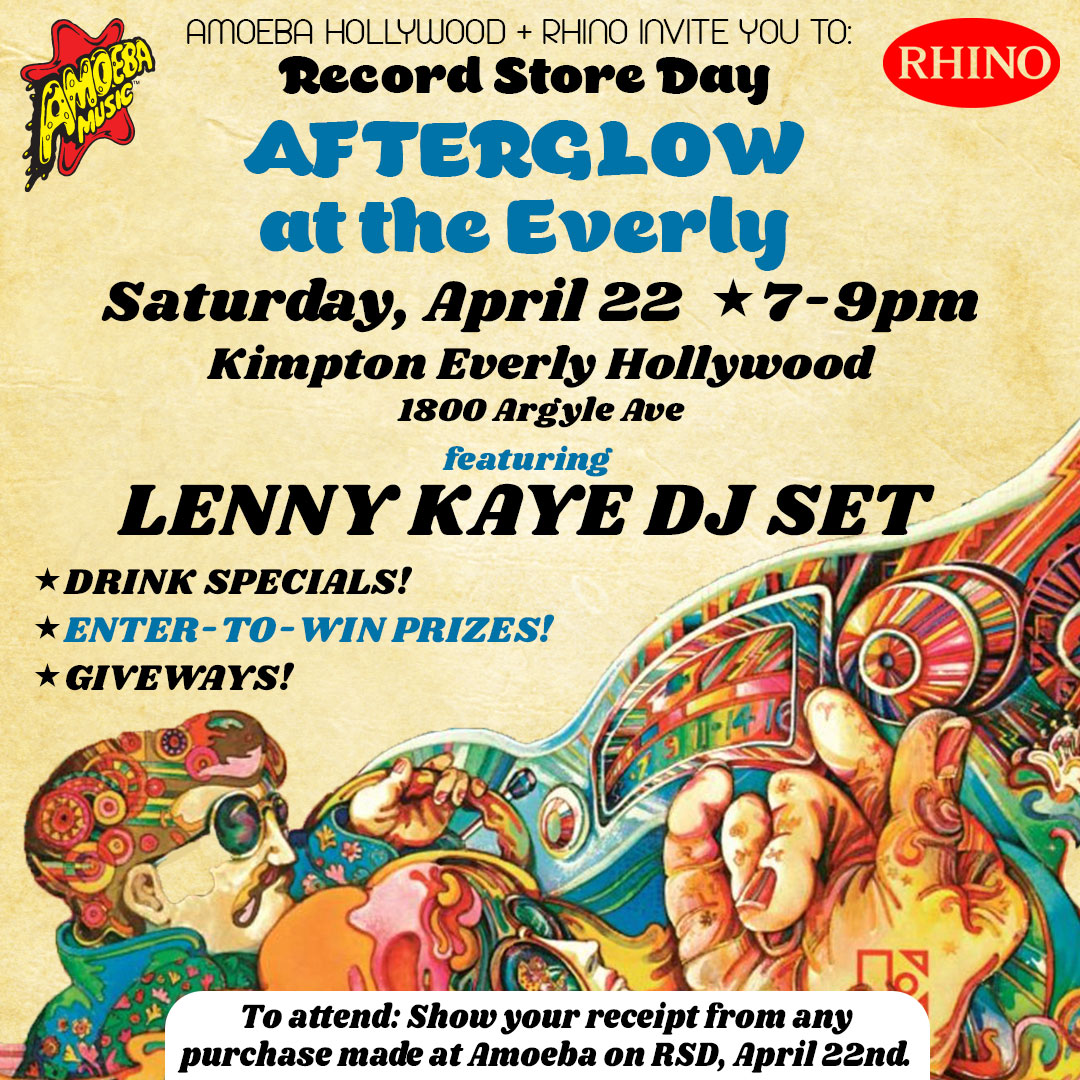 24 Limited Edition Releases Available at Participating Independent Record Stores on April 22, 2023
LOS ANGELES – Rhino's Record Store Day offerings for 2023 include 24 limited-edition releases from some of music's most celebrated artists. Some highlights include vinyl releases from Tori Amos, Duran Duran, Stevie Nicks, and Van Halen; three expanded releases from 1981 by Talking Heads members; picture discs from The Cure and Ol' Dirty Bastard; and boxed sets from the Grateful Dead and in celebration of the 50th anniversary of Nuggets. Full details on all titles are listed below. All releases will be available exclusively at select independent music retailers on April 22.
For a list of participating stores, please visit the Record Store Day website
Available on Saturday, April 22:
Tori Amos – Little Earthquakes Rarities – 1-LP vinyl 
Limited Edition of 14,500 copies, $24.98 
Blur – Blur Present The Special Collectors Edition – 2-LP blue colored vinyl 
Limited Edition of 20,000 copies, $34.98 
David Byrne – The Complete Score From "The Catherine Wheel" – 2-LP 140-gram vinyl
Limited Edition of 11,500 copies, $34.98
Captain Beefheart and The Magic Band – I'm Going to Do What I Wanna Do: Live at My Father's Place 1978 – 2-LP 140-gram vinyl 
Limited Edition of 5,000 copies, $39.98 
The Cure – SHOW – 2-LP picture disc 
Limited Edition, $44.98 
Dio – Live in Fresno 1983 – 2-LP red 140-gram vinyl 
Limited Edition of 8,000 copies, $34.98 
Duran Duran – Rio Carnival – 1-LP pink & blue swirl vinyl 
Limited Edition of 10,000 copies, $24.98 
Grateful Dead – Boston Garden, Boston, MA 5/7/77 – 5-LP 180-gram vinyl boxed set 
Limited Edition of 11,000, $124.98 
Jerry Harrison – The Red and The Black (Expanded Edition) – 2-LP red & black colored vinyl 
Limited Edition of 6,500 copies, $34.98 
Madonna – American Life Mixshow Mix (In Memory of Peter Rauhofer) – 12" 180-gram vinyl 
Limited Edition of 17,000 copies, $19.98 
Stevie Nicks – Bella Donna Live 1981 – 2-LP, 180-gram vinyl 
Limited Edition of 14,000 copies, $34.98  
Nuggets – Nuggets: Original Artyfacts from the First Psychedelic Era (1964-1968)  
[50th Anniversary Box] – 5-LP boxed set 
Limited Edition of 10,000, $99.98 
Ol' Dirty Bastard – Return to the 36 Chambers: The Dirty Version – 2-LP picture disc 
Limited Edition of 12,000 copies, $39.98 
The Pogues – The Stiff Records B-Sides (1984 – 1987) – 2-LP black/green marbled vinyl 
Limited Edition of 6,500, $34.98  
Ramones – Pleasant Dreams – New York Sessions – 1-LP 140-gram yellow vinyl 
Limited Edition of 14,500 copies, $24.98 
Rich Kids – Ghosts of Princes in Towers – 1-LP vinyl 
Limited Edition of 6,000, $21.98 
Todd Rundgren – A Wizard, A True Star – 1-LP 140-gram multi-colored vinyl 
Limited Edition of 5,000 copies, $27.98  
Sisters of Mercy – The Reptile House EP – 1-LP 180-gram smokey colored vinyl 
Limited Edition of 9,500, $19.98 
Tom Tom Club – Tom Tom Club (Expanded Edition) - 2-LP pink colored vinyl 
Limited Edition of 5,000 copies, $34.98 
Van Halen – Live: Right Here, Right Now – 4-LP red translucent vinyl 
Limited Edition of 7,500 copies, $99.98 
Various Artists – Psyche France Vol. 8 – 1-LP 140-gram vinyl 
Limited Edition of 1,000, $21.98 
Various Artists – Spinning Gold (Music from the Motion Picture) - 1-LP gold colored vinyl 
Limited Edition of 3,500 copies, $27.98 
Scott Weiland – 12 Bar Blues – 2-LP blue/green colored vinyl 
Limited Edition of 7,500 copies, $34.98  
Yes – Live at Knoxville Civic Auditorium – 3-LP 140-gram vinyl 
Limited Edition of 9,000 copies, $44.98